undefined
Get Free Customization in This Report
India was the primary country to enter the worldwide cashew trade. Cashew is a
vital cash crop and a highly valued nutrient in Indian agriculture. Cashew
provides an essential source of income and food security for small holder
producers and low-income groups. However, the Indian cashew industry has a
vast untapped potential to support the subsistence of cashew farmers, and
provide various employment opportunities and improve returns through global
trade. As per this research report, India Cashew Market Size was US$ 807.41
Million in 2020.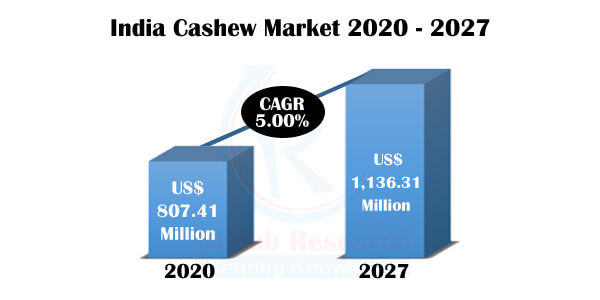 In recent years, the cashew market has witnessed a rapid shift in the
consumption pattern across India, primarily due to flavored assorted cashew
products occupying an increased share in the retail market space. With rising
health-consciousness, consumers prefer healthy snacks, due to which the demand
for flavored cashews is growing in India. Moreover, the high content of copper
in cashews helps RBC formation and strengthens the bones, muscles, tissues,
and nerves to improve overall health. The cashew market in India is expected
to grow by the forecast period. India Cashew Market is estimated to reach
US$ 1,136.31 Million by 2027.
Cashew Export Promotion Council of India (CEPCI)
In the country, CEPCI has urged the Union government to allocate sufficient funds and put forward several schemes to boost the production of cashews. This initiative is required to drive the cashew market.
CEPCI Issue or renew RCM (Registration Cum Membership Certificates) to its members. The certificate helps for export-related works and availing duty benefits under foreign trade policy in 2021.
India is the major cashew consuming country in the Asia-Pacific, positioned as
the largest producer of raw cashew nut (RCN) globally. The major cashew
producing Indian states are Andhra Pradesh, Maharashtra, Orissa, Kerala, Tamil
Nadu and Karnataka. Maharashtra is the largest cashew producing state. It is
well-drained lateritic and sandy soils along the coastal belt with undulating
topography and climatic conditions like modest temperature, high humidity, and
high rainfall in the Konkan region Maharashtra is recognised as the most
beneficial for cashew plantation. India Cashew Industry will grow with a
CAGR of 5.00% during 2020-2027.
Cashew is one of India's primary foreign exchange-earners and the second-
biggest dollar earner. India imports and exports cashew products in the
international market, such as the UAE, Netherlands, Japan, Saudi Arabia,
Spain, Germany, and the United States. In addition to domestic production,
India also imports raw cashew from other countries like Vietnam, Tanzania,
Netherlands, Kuwait, Kenya etc., besides many other small countries.
In the COVID-19 pandemic , cashew consumption and supply has taken a
massive hit, the future of the cashew industry hangs in the balance. Export
volume of cashew has hit an all-time low, and domestic sales have fallen due
to the absence of pilgrims, large-scale festivals and events in India. Major
Key players covered in Indian cashew markets are Wonderland Foods, Kalbavi
Cashews, Britannia Industries Limited and Haldirams. In 2021 , Haldirams
and Future life bring a nutritional product range to India.
Renub Research Latest Report "India Cashew Market by production
(Maharashtra, Andhra Pradesh, Orissa, Karnataka, Kerala, Tamil Nadu, Goa, West
Bengal, Jharkhand, Others), Export (UAE, Netherlands, Japan, Saudi Arabia,
Spain, Germany, United States, Kuwait, Qatar, Singapore), Import (Vietnam,
Tanzania, Netherlands, Kuwait, Kenya, Japan, Spain, Indonesia, EI Salvador),
Company (Wonderland Foods, Kalbavi Cashews, Britannia Industries Limited,
Haldirams)" studies the India Cashew Industry. The report also comprises
qualitative factors such as drivers, restraints, and opportunities.
States - India Cashew Production has been covered from 10 viewpoints
1. Maharashtra
2. Andhra Pradesh
3. Orissa
4. Karnataka
5. Kerala
6. Tamil Nadu
7. Goa
8. West Bengal
9. Jharkhand
10. Others
Countries - India Cashew Export Market have been covered from 10
viewpoints
1. UAE
2. Netherland
3. Japan
4. Saudi Arabia
5. Spain
6. Germany
7. United States
8. Kuwait
9. Qatar
10. Singapore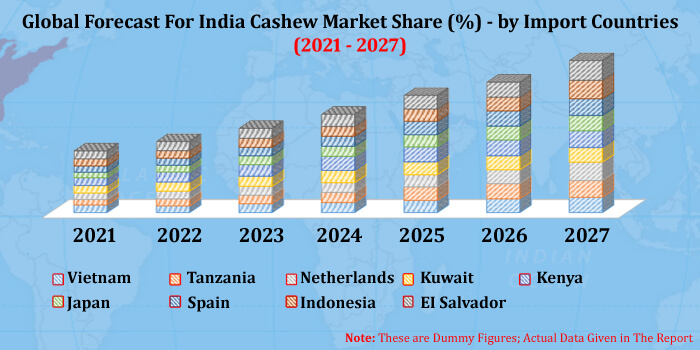 Countries - India Cashew Import Market have been covered from 9 viewpoints
1. Vietnam
2. Tanzania
3. Netherlands
4. Kuwait
5. Kenya
6. Japan
7. Spain
8. Indonesia
9. EI Salvador
Company Analysis
• Overview
• Recent Development
• Revenue Analysis
Company Analysis:
1. Wonderland Foods
2. KalbaviCashews
3. Britannia Industries Limited
4. Haldirams